With an early domain name of spoon.com, you know the American Spoon company has got to be a classic. The 34-year old American Spoon company, founded in 1981 by Justin Rashid and Chef Larry Forgione, is a genuine story of what grit and determination can bring.
Justin, a foraging master from a young age, who grew up in natural-resource-rich Michigan, and Larry, a chef who used Justin's product in his New York restaurant, shared a dream once they finally met. Using Michigan's unique fruit, Justin's hunting skill, copper kettles, wooden "stirring" paddles, and Larry's "special" recipe, the two set out to create the finest fruit preserves in the world.

Creating delicious products is not easy. It requires a consistent process. Preparing fruits by hand and cooking them in small copper kettle batches, stirred by large wooden paddles, under the watchful eye of chefs, ensures quality. It was the process American Spoon used from the beginning, and it's still the process they use today to make their products.



Sourcing demanding fruits varieties like the Red Haven Peach, the Early Glow Strawberry, the Damson Plum, the Rubel Blueberry, and the Northern Spy Apple requires direct and personal relationships with committed Michigan fruit growers. Justin and Larry are nurturing, ensuring the continuation of Northern Michigan's fruit growing culture.

The name, American Spoon, comes from how Justin and Larry's first preserve batch they ever made turned out. Using large, sliced Early Glow strawberries, the resulting preserves were more "spoon preserves" because they were easier to spread with a spoon than a knife. The name American Spoon stuck.

Today, American Spoon, is owned and operated by Justin and his wife Kate Marshall and their son, Noah, is starting to lend a hand. The New York Times, Cook's Country, Serious Eats, Saveur, Food Network, and Vogue have all recognized American Spoon's amazing products.
Wild Thimbleberry Jam (2012, 2013, 2015, 2016)
Wild Blueberry Compote (2015)
Ramp Kimchi (2015, 2016)
Wild Elderberry Jelly (2016)
Chocolate Fudge Sauce (2016)
Have won Good Food Awards for the kind of food we all want to eat: tasty, authentic and responsibly produced. Should have known Justin was going to be something special when he won a James Beard award for Who's Who of Food & Beverage in America, in 1984.


American Spoon has a great website and one of my favorite features is the list of American Spoon Recipes. Below is just a sample of all the recipes you can make using American Spoon products.
Follow American Spoon on social media.
American Spoon Instagram 
American Spoon Twitter 
American Spoon Facebook 
American Spoon Linkedin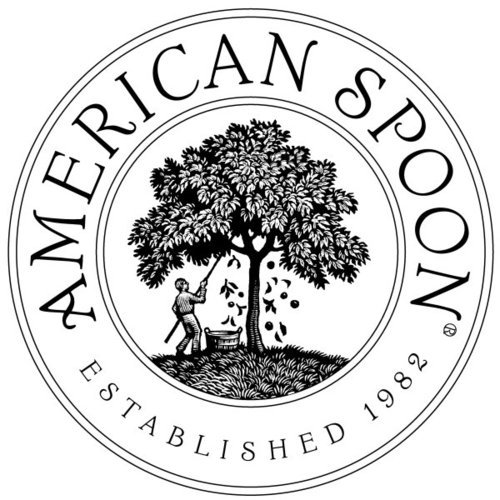 American Spoon Whole Mustard Seed was shipped in the November 2016 VinoPair subscription box. With the leftovers, I followed the deviled eggs recipe on American Spoon's website and was not disappointed. Whole mustard seed products can be intimidating, but American Spoon's sophisticated product features whole yellow and black mustard seeds soaked in vinegar and Michigan sparkling wine, which balances the flavor and heat.
Sources: